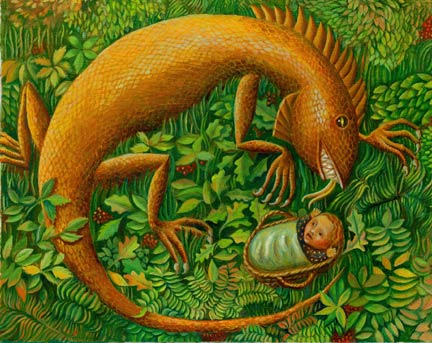 I wasn't sure what the origin of The Goat-Face Girl was when my daughter Leah first presented her version to me. I was taking a children's book illustration class and I needed a good story to illustrate. Leah and I share a love of folktales, so collaboration seemed ideal. We love the magic and wonder of these stories but have reservations about their values and the violence they often contain.
The Goat-Faced Girl, as originally recorded by Giambattista Basile Conte di Torrone in his collection of Italian folktales, is a riveting story about a young king and his love for Renzolla, a beautiful but ungracious young woman. Basile felt was that it was most important for young women to be polite and grateful. He has sympathy for the king, who, as in most traditional folktales becomes enamored of the heroine after admiring her beauty. Then his love's face changes into that of a goat. The king's rejection of Renzolla is regarded with understanding by the author. The king's superficial love for Renzolla is restored in a moment of transition:
"When the King beheld her, so beautiful and splendidly attired, he loved her as his own life; blaming himself for all the misery he had made her endure, but excusing himself on account of that odious goat-face which had been the cause of it."
Leah was not so ready to excuse the king's superficial values. He was as culpable as Renzolla. Also, manners, while always important, weren't the real problem. The issues were twofold. First, the king was sexist and superficial. Second, Renzolla was lazy and would rather abuse the people around her than attempt even the simplest tasks.
As a teenager, Leah would tell this story when she babysat. Her adaptation was filled with humor and contemporary values. Beauty was not a ticket to happiness. The king, now known as Prince Rupert, was not a victim, but a shallow lout in need of a lesson. Renzolla, renamed Isabella, had bigger problems than her manners. She needed to become self-sufficient and appreciative of her guardian, the lizard lady. The surprising conclusion of the story reflects these deeper values without the somber tone of the original story.
Leah presents the king, now called Prince Rupert, critically and with humor:
"When they arrived at the cottage Isabella was confused. 'Where is my beautiful palace full of servants to wait on me?' she asked. 'Umm, well, there's this... rule... in the kingdom... you have to... pass certain tests!' gulped Rupert. 'That's it, you have to pass a test before you can, er, marry a prince and get into the palace! And the first test is to, umm, grow turnips. But, uh, if you don't want to you can always give up and go away, er, home.' And with that Rupert fled."
I tried to approach the illustrations with humor that would complement the text. Although the issues addressed in this story are serious ones, they can be approached in an entertaining and silly manner. I also wanted the paintings to have a richness of color and detail so that readers could experience a different world and there would be something new to look at with every reading.

Jane Marinsky