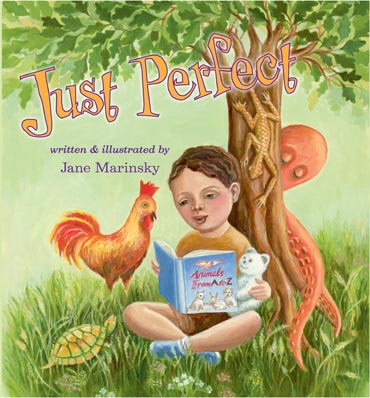 Mommy, Daddy and I made three, but we thought we might like four. And so. . .

And so begins an intensive search for that perfect fourth family member. Maybe a dog? Naw, way too much hair. A chameleon? Naw, it disappears. A dolphin? Naw, uses too much water. The porcupine is too prickly to hug, the rooster wakes up too early, and the octopus messes with everything! But there is, in the end, a simple and totally satisfactory solution. And it is just perfect.

Written and illustrated by the illustrator of The Goat-Faced Girl, this book is funny, witty, and winsome. The words are few, but the illustrations are fast paced, full of clever visual puns and diverting imagery. Adults will be seduced by the art and children by the quest. And both will be satisfied (even gratified) by the solution.

Jane Marinsky's editorial illustrations have appeared in many major publications. Just Perfect was in­spired by the constant pleading of her older children for a pet.